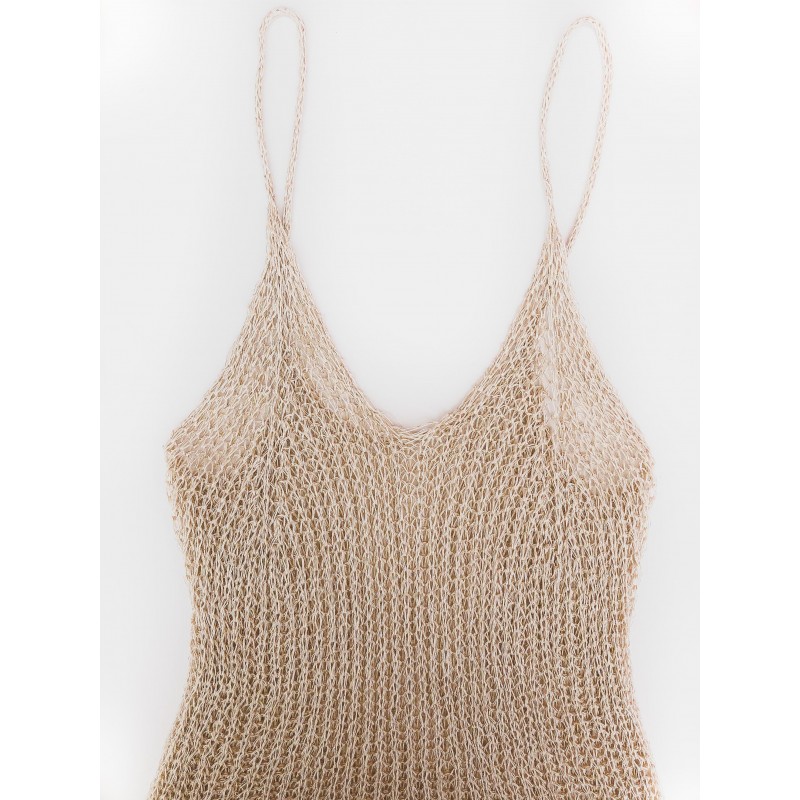 

Coquillage Top
Coquillage Top is a light tank with thin straps, knitted with bottom up with two threads together in fisherman's rib, and with a beautiful decrease at the yoke. 
With its textured stitches and shiny look, it is perfect for warm summer days or to dress up your festive days and evenings. 
Product Details
Size

XS (S) M (L) XL

Fit

Slim

Difficulty

Skilled

Yarn weight

Lace
THREAD / LUREX

Needles

Circular 4mm (US 6)

Gauge

10 x 10 cm (4" x 4") = 16 sts x 22 rows
Coquillage Top is wore close to the body, without positive ease. Choose your size according to these measurements which are closest to your own measurements : 
CM measurements :

INCH measurements :

GAUGE : 10 x 10 cm (4 x 4 inch) = 16 stitches x 22 rows with circular needles 4,5 mm [US 7].
Please note : 22 rows = 11 visible rows after blocking. 
Before blocking, the gauge reach approx. 28 rows = 14 visible rows.
Gauge is very important for this project. It's recommended to knit a swatch before starting to kint your sweater to be sure to obtain the indicated measurements.
RECOMMENDED FIBERS: 50 (100) 100 (100) 100 g  Isager Trio from Isager Yarn (50g = 350m / 383 yards), knitted together with 25 (25) 25 (25) 25 g of Stellaris from Kremke Soul Wool (25g = 560m / 613 yards).
TECHNIQUES : 
- Stockinette stitches
- Knit one below (K1B)
- Purl one below (P1B)
- Fisherman's rib in the row (flat)
- Fisherman's rib in the round (circular)
- Double decrease left and right on K1B stitches (Tips video)
This pattern is in PDF file.
Help links are included in the pattern! 
You can choose your Language and your units (CM or INCH). 
Your size isn't on this pattern ? Contact us !